BACKGROUND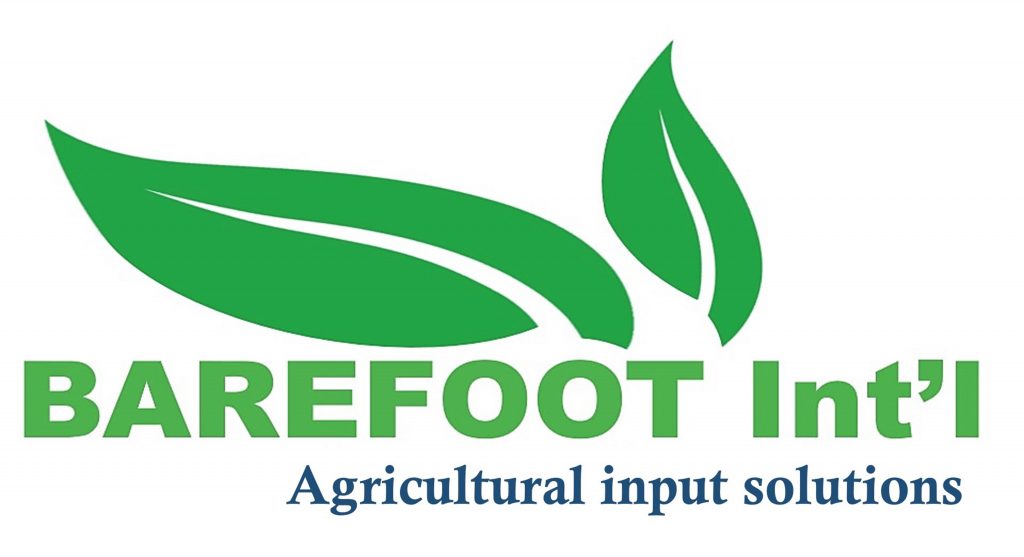 Introduction
BareFoot International Limited is an agribusiness company registered in Tanzania for the purpose of importation and supply of quality agricultural inputs including fertilizers, seeds, agrochemicals, farm equipment, farm structure materials, greenhouse supplies and installation, and accessories for irrigation (Registration 128811, 2016).

BareFoot International Limited is dealing with the importation and supply of agricultural inputs in Tanzania. A company is also engaged in the importation and installation of farm structures and facilities.
Company History
A company actively started operating in September 2016 as a distributor of Agro inputs over 18 regions of Tanzania. By then it had one main office in Arusha, a year later, a company gained trust from customers and suppliers (local companies and multinational companies) which leveraged the decision to expand operations.

Currently, a company has six strategically positioned in-markets outlets in Arusha, Kilimanjaro, Tabora, Mbeya, Mwanza, and Dar es salaam. Arusha is a head-quarter which is located at SunFlag Industrial Park, Unga Limited area. Through in-market outlets, a company is currently covering all regions of Tanzania.
About BareFoot Int'l
Company vision
Our vision is to conveniently provide quality, suitable and affordable agricultural inputs to farmers in Tanzania.
Company Mission
Our mission is to avail and distribute quality, suitable, and affordable agricultural inputs while offering exceptional customer care services in traditionally acceptable ways.
Company objectives
Build awareness regarding the selection and appropriate applications of agrochemicals.
Timely distribution of suitable and quality agriculture inputs which solve existing farmers' problems.
Establish relationships with international agrochemical manufacturers to facilitate the provision of suitable formulations which solves existing challenges.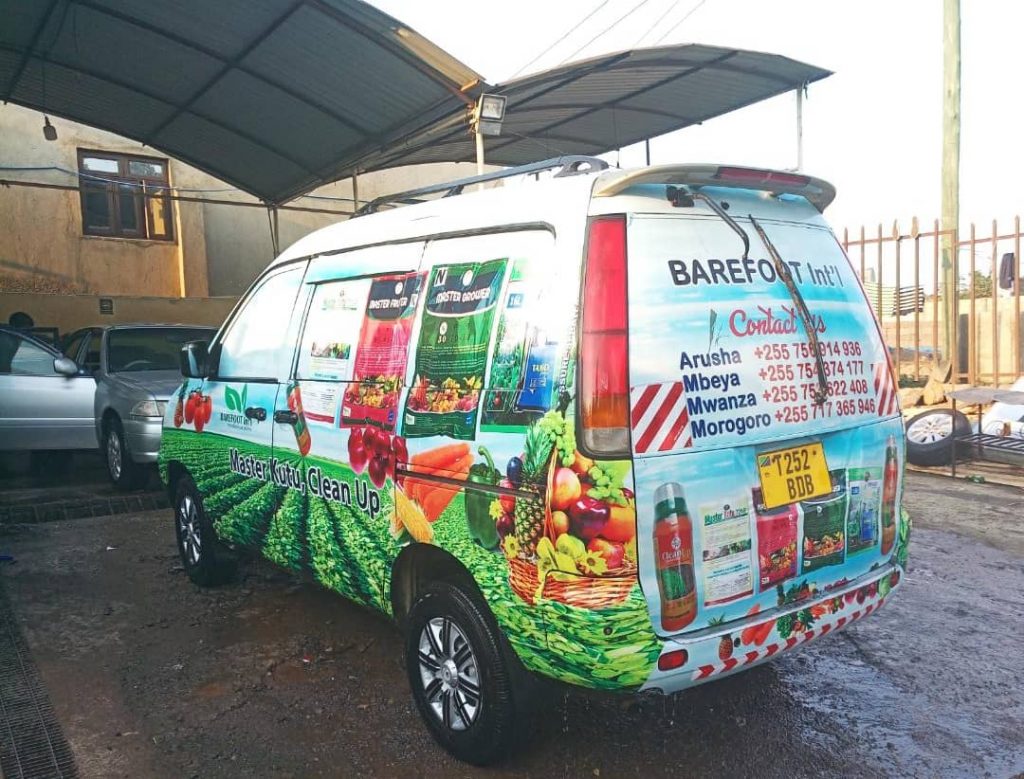 COMPANY REGISTERED PRODUCTS
A company imports controlled and registered own branded products (herbicides, fungicides, insecticides, fertilizers and farm equipment) and distribute them through a network of Sales Agronomists who outreaches all regions of Tanzania.
Herbicide
CleanUp 480 SL (Glyphosate 480 SL)
CleanUp 480 SL is a soluble liquid; none selective and systematic post-emergence herbicide that controls perennial and annual weeds.
It is available in the package of 500 Mls, 1 Litre, 5 Litres and 20 Litres.
Registration No:HE/0600
Insecticide
ENDOMECT 200SC (Emamectin benzoate 40 g/L+Indoxcarb 160 g/L SC)
ENDOMECTIN 200SC is the high effective semi-synthetic antibiotic insecticide, it controls Lepidoptera such as hopper, moth, folder, worm, weevil, scale, borers, beetles, caterpillar, etc. in rice, corn, sorghum, cotton, coffee, tea, tobacco, potato, tomato, onion, pineapple, citrus, pear, vegetables, and so on. Indomectin 200SC is coming soon in a package of 100 Mls, 200 Mls and 500 Mls, with Registration No:IN/1007
Fungicide
MasterKutu 72 WP (Cymoxanil 8% + Mancozeb 64%WP)
MasterKutu is a fungicide used to control many fungal diseases such as downy mildew, rots, leaf spot, scab, early and late blights, rusts, Sigatoka, melanosis, sheath blight, etc. in a wide range of field crops, including corn, rice, wheat, sugar cane, tobacco, potatoes and other vegetables, fruit, peanuts, floriculture, and many other crops. It is available at the package of 1kg, 500gm and 200gm.
Registration No: FU/0545
Fertilizers
MasterGrower – NPK 30-10-10
NPK 30-10-10 is derived from finest horticultural grade raw materials. It is a 100% water soluble, free flowing balanced fertilizer for all crops. Suitable for fruits, vegetables, oilseeds, cereals, nurseries and greenhouse crops. Due to purity and quality of the product
Master Fruiter – NPK 10-10-40
NPK 10-10-40 is a type of High-potassium elemental water-soluble fertilizer, high-temperature technology is used to chelate large, which can improve fertilizer efficiency and increase yield. It has a comprehensive and balanced nutrition effect and is a new type multifunctional water soluble fertilizer. Chelated nutrients 100% full water soluble preferred raw materials. High content, safe use, no Hormones.

Knapsack Sprayers
BareFoot Sprayer, is a high-quality and budget sprayer for small and medium farmers.

BareFoot Sprayer
Knapsack Sprayer Spare Parts
We have different kinds of Knapsack Sprayer Spare Parts including Nozzles, Black rod Kick and O-ring rubber
COMPANY SERVICES
Supply of on-farm construction materials
Barefoot International Limited, supply construction materials for farm structures, and facilities in all regions of Tanzania. A company supplies greenhouse/greenhouse construction materials, dams and/or fish ponds construction materials.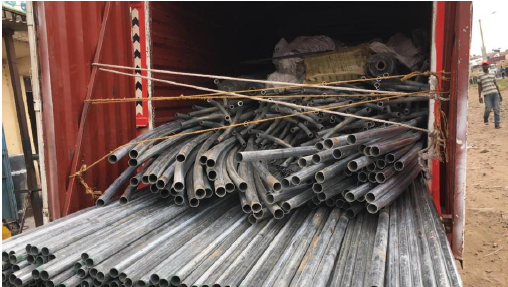 Galvanized Steel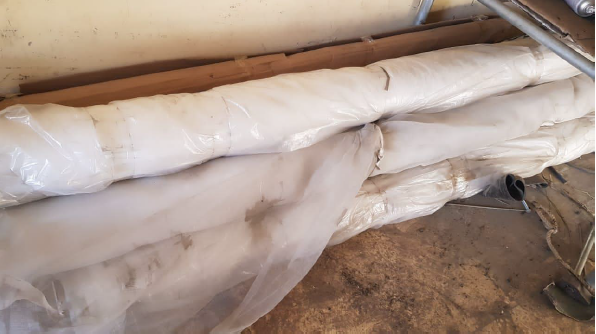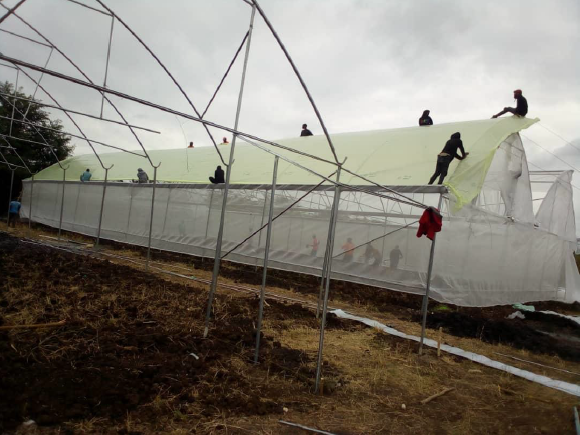 Installation of farm structures and facilities
Barefoot International Limited, performs the installation of farm structures and facilities in all regions of Tanzania through its established team of experienced technical experts specialized in the installation and construction of farm structures and facilities.
Agricultural Technical Consultancy Services
Barefoot International Limited provides business and technical advice and support to farmers. Through advising persons or companies which engage in selling and distribution of agricultural inputs as well as agriculture production.
Agricultural consultancy services aim to balance the commercial viability of agricultural inputs with sustainable development.
In-market outlets and Locations
Our head Office is found in Arusha and other offices or branches are in Mbeya, Mwanza and Morogoro